From Our Farms to Your Feet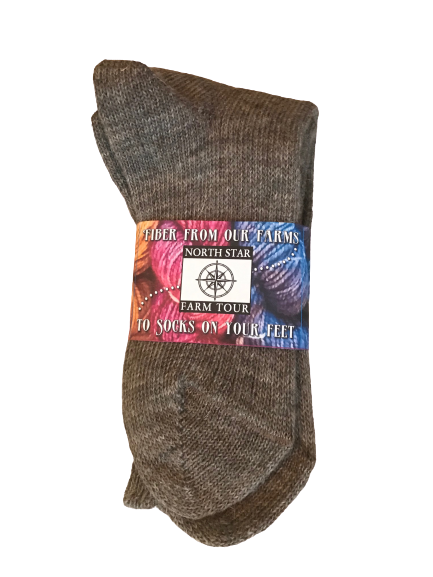 Get Your Limited-Edition Wool-Alpaca Socks Tour Weekend!
The educational display at every farm shows the life cycle that starts with shearing of North Star Farm Tour sheep and alpaca at 11 participating farms. 100 lbs of fiber was processed at Rach-Al-Paca Mill in Hastings, MN, and then knit into socks by 100-year-old antique machines at Northland Woolens in Nelson, MN. Because they are 80% wool and alpaca farm-raised in Minnesota, they are eligible for the Minnesota Grown label. Even more special is the decision by Minnesota Grown to co-label these socks as the first product so honored. 
Get a piece of history and protect against the nasty northern winter that is predicted for 2020. 
Men, are you concerned the socks won't fit your feet? 
You will be especially pleased that these socks are generously made. Although the sizing on the label says to Size 13, one of our members promises that they easily fit a Size 15 man's foot! 
For sale at all farm sites on tour weekend! $25
At The State Fair
North Star Farm Tour is grateful to Minnesota Grown for entrusting us with their first co-labeled product sponsorship, and featuring the educational Sheep To Sock Poster at the Minnesota State Fair!