Farm Visitor Safety & Health is Our #1 Priority
Hand washing is the first line of defense against germs. North Star Farm Tour shares how a new contraption makes farm visits safe for everyone! You can download the plans to make your own handwashing station as well as handwashing posters in multiple languages.
We have been educated to Reach & Teach everyone
Wash Your Hands!
That's what we learned at the "Agritourism: Fun on the Farm Workshop" hosted by the MN Dept of Health (MDH), MN Dept of Agriculture (MDA), and Upper Midwest Agricultural Safety & Health Center (UMASH) at the University of Minnesota in May 2019. Hand washing with soap is the best way to stop germs…hands down! Honestly, it changed our priorities for this year.
Visitor Safety & Health is Our #1 Priority North Star Farm Tour (NSFT) paid attention to the state experts in that workshop, and realized we had work to do before Tour 2019:
We changed our Membership Policy to require a certificate of completion of the MDH online Safer FACEs (Farm Animal Contact Exhibits) training before hosting a public tour. The dinner workshop is only offered once per year, not again until summer 2020. 
We created a handwashing station design & construction team to build hand washing stations that appeal to our sensibilities as farmers: durable; stable; easy to clean and store; reasonable cost; efficient waste water storage; and easy to build and clean. Thanks to our sponsors who dug deep to make this happen:  — Culligan Red Wing, Runnings Red Wing, Hirshfields Apple Valley, Windswept Hill Farm, Clear Spring Farm, and Culligan Ultrapure Northfield.  
"Reach & Teach Everyone,"  means EVERYONE. With a grant from UMASH, North Star Farm Tour invested member funds to translate that poster into 18+ languages at the Intercultural Mutual Association Alliance (IMAA) in Rochester. 
We want people to use this poster. Just send us back a story that includes a little bit about yourself, where you used it and what the feedback was from users. Our address is on the bottom of the poster. 
We researched handwashing station plans online and visited websites for farm safety centers all over the United States before deciding to design our own. 
We adopted the phrase "Reach & Teach Everyone" to honor our policy of Diversity and Inclusion as we decided to translate this poster into as many languages as possible – FREE. 
We redesigned a simple and easy-to-understand poster we found on the UMASH website and received approval from MDH to make it more colorful and simpler so it's useable by any group, anywhere. It includes the most important health prevention messages for our visitors. But it was only in English and Spanish. 
We used smartphone technology to open access to all of the translations, immediately, for free (see below). 
We are Safer FACEs Certified
Each one of our member farms go through the Safer FACEs certification offered through the Minnesota Department of Health. Safer Farm Animal Contact Exhibits is a training program that helps our members better understand the risks of illness and injury that come from contact with animals, as well as how to help keep our visitors safe.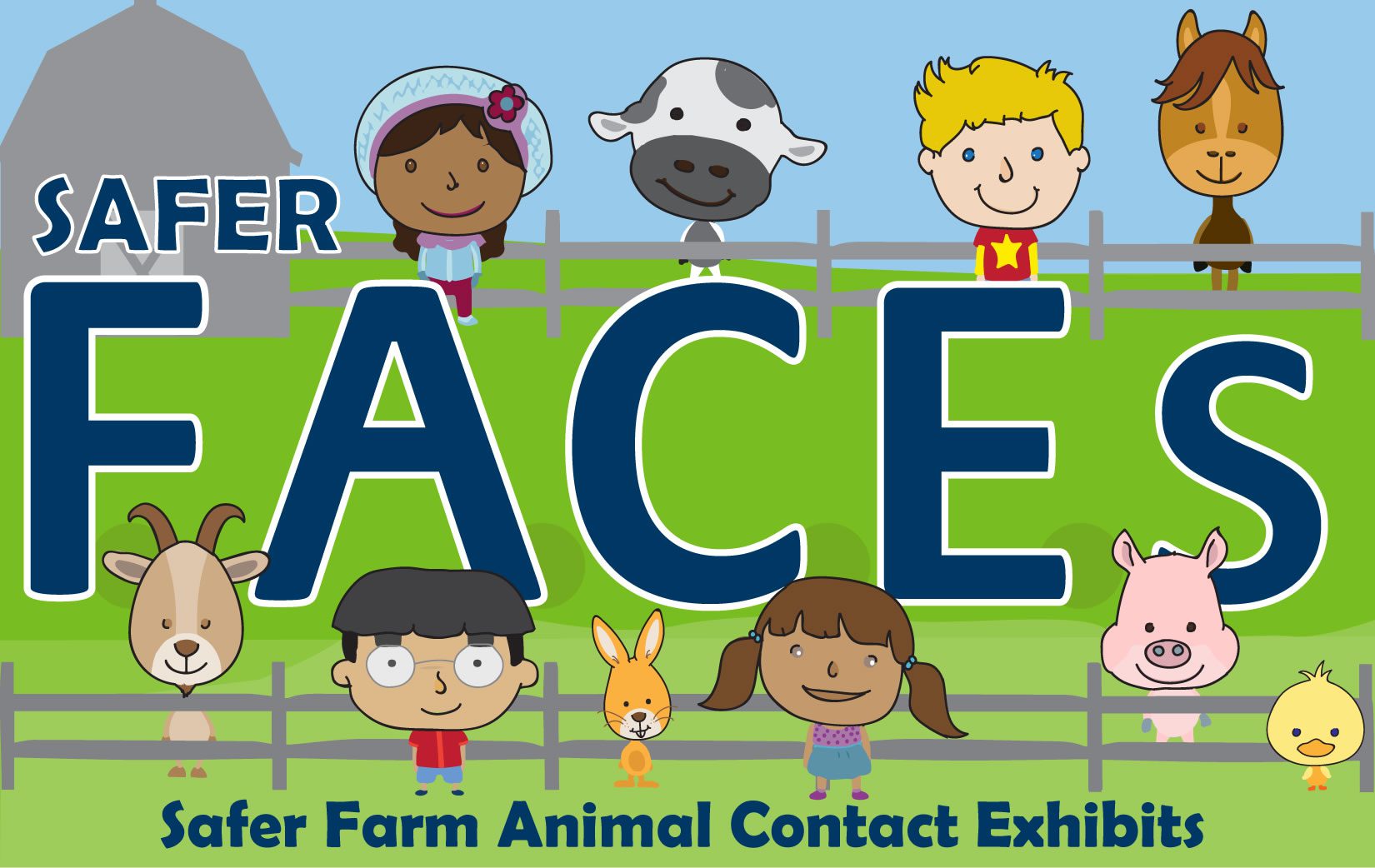 Handwashing Station Plans and Materials
As seen at the UMASH EXPO!
Handwashing Information Posters by Language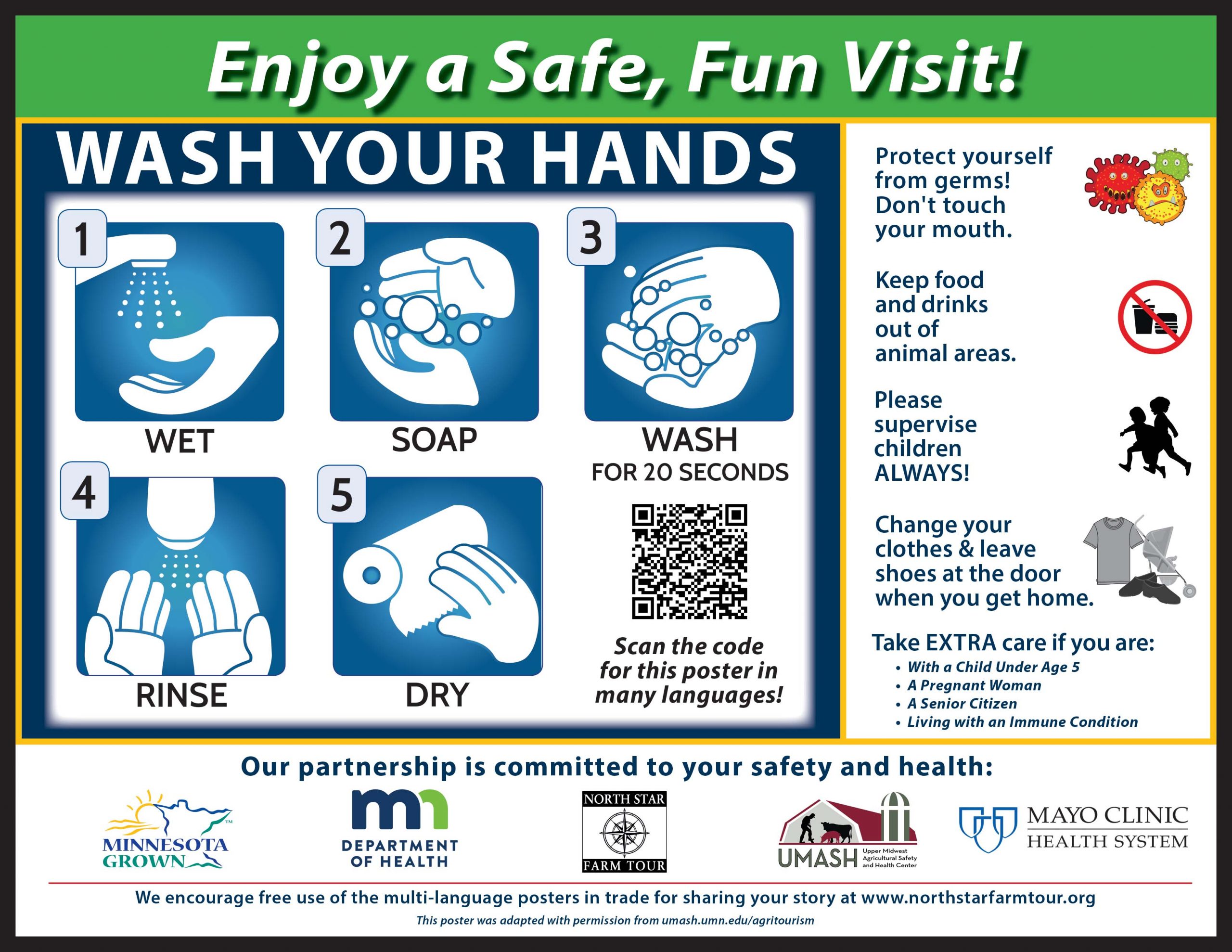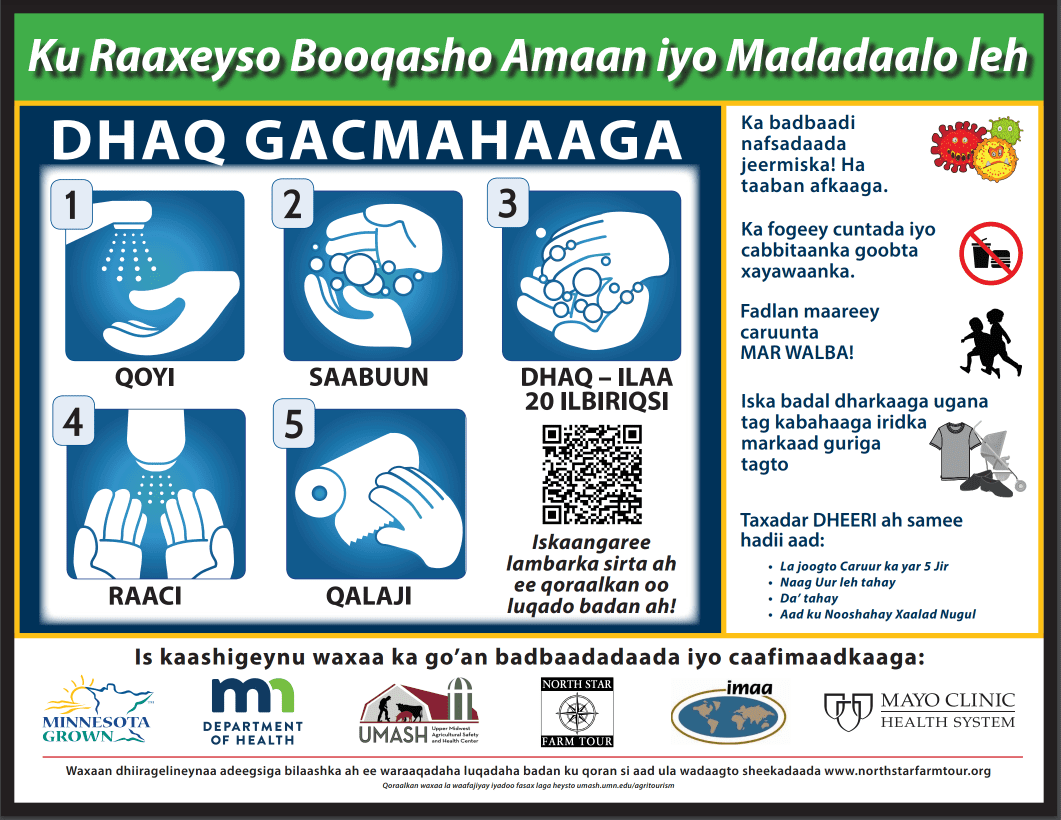 You will find the downloads of our Handwashing Information Poster in your preferred language inside our Toolkit. Languages include:
English
Bosnian
Anuak
Dinka
Khmer
Norwegian
Vietnamese
Español
Deutsch
Hindi
Amharic
Arabic
Chinese
Francais
Somali
Burmese
Karen
Hmong
Karenni
Would you like to see this poster in your native language not included above? Send us your translation and we will add it to the list.